29 Mar

HUD Affirmatively Furthering Fair Housing updates 3.29.2016

I am excited to announce our new eBook, "Agency Tyranny – How to stop HUD's Devastating Attack on Property Rights" is now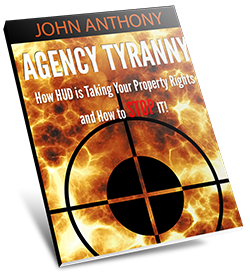 available.
In the name of reducing housing discrimination, HUD has greatly expanded its mandate to cover social issues, zoning laws and land use. Their latest rule, Affirmatively Furthering Fair Housing, already has a history of using the force of compliance reviews and legal threats to overturn voters' decisions; control local zoning and land use, and coerce communities to join regions.
Our new eBook describes the history of our nation's cultural attacks on private property. See how federal agencies usurp local choices, and how communities can protect themselves from federal encroachment. Contains over 80 sources.
Receive your free copy of "Agency Tyranny."
---
Marin County, California and AFFH
In 2009, in response to the 2nd Circuit Court's settlement against Weschester County, NY, then Deputy Secretary of HUD, Ron Sims remarked,
"We are going to pursue similar goals across the country."
Westchester had just lost a False Claims Act lawsuit for failing to affirmatively further fair housing as they contended in their HUD grant application.
HUD saw an opportunity to use the FCA to bring other entitlement communities into line and wasted no time.
Marin County, much like Westchester, NY, is a tony community north of San Francisco with a small minority population. Pursuant to the Westchester case, in July of 2009, HUD conducted an on-site compliance review of Marin County's Community Development Block Grant (CDBG) program.
The agency found that, even though Marin had taken steps to provide affordable housing throughout the county, they still had failed to completely affirmatively further fair housing. (Note.  As other counties have discovered, HUD does not provide a clear understanding of exactly what constitutes affirmatively furthering fair housing.)
Citing civil rights violations, the report claimed,
"even among its relatively small minority population, persons of Black race and Hispanic ethnicity are largely clustered in two minorityimpacted census tracts."
A local civil rights leader complained that community members resisted havimng affordable housing in their backyards and that was added to the comments in Marin's report.
In early 2011, Marin signed a Voluntary Compliance Agreement which required the county, among other obligations, to:
Market to attract under-represented minorities in nearby counties;
Encourage housing developers to undertake affirmative marketing whether or not the development uses federal funds;
Provide to HUD, an annual report on progress for the next five years.
Community Development Coordinator, Roy Bateman said that in 27 years, he had never known HUD to have this "level of concern."
As evidence shows, increasing aggressive action will be the norm.  In 2011, HUD engaged in more legal actions than in the entire last decade.
HUD Developments –
Following a  Executive Order issued in September, 2015, HUD is now piloting an effort to use "behaviorally-informed messages" to increase the number of students fully completing their application for federal aid.  The program is in conjunction with the Department of Education.
Other Agency Developments –
Attorney, Karen Budd-Falen has written an important article on The Major Regulatory Expansion of Endangered Species Act Listing and Critical Habitat Designations.
The government's new ESA designations contain serious concerns for all private property owners.
Part of the government's decision-making is now based on the pseudo-scientific method of "conservation biology" which will greatly expand critical habitats designations.
When combined with the President's new approach of  listing species throughout an entire range, whether or not they are endangered, places private property owners at severe risk.
Next issue: In one well-known county, the Community Development Coordinator said that in 27 years he had never known HUD to have "this level of concern." In our next newsletter, Property Value Defense will explore exactly what HUD's concern did to this community.
(PVD is here to help your community understand the severe consequences accompanying AFFH.  If you know of any community members, officials or municipal attorneys interested in joining our group, please feel free to forward this update.)
Thank you,
John Anthony, Founder
Property Value Defense
*Your donations are greatly appreciated to support our work of keeping communities informed.  Thank you.  JA
*Neither PVDN nor Sustainable Freedom Lab are attorneys. This email is not intended to provide legal advice. As always consult your legal advisors before entering into any agreement with the federal government or any other entities.